---
Power Line Systems Atlanta Users Group 2000
Power Line Systems and Georgia Transmission Company hosted a Users Group meeting at GTC's offices in Tucker, Georgia, near Atlanta. Eric Peyrot and Otto Lynch of Power Line Systems attended the meeting and made several presentations in addition to several other presentations made by consultants and utilities that use PLS-CADD as their transmission line design software of choice.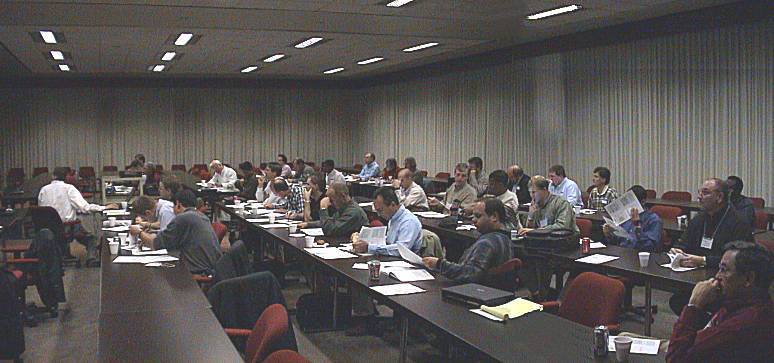 Above: Otto Lynch leads a presentation on importing USGS information into PLS-CADD.
The presentations and resulting discussions were quite informative for all who attended. We were amazed at how many of our clients are using our software within their production process. We wish to extend our thanks to Herb Payne and Georgia Transmission Company for graciously offering the use of their facilities and providing the break time refreshments. We also wish to thank Ron Randle of EDM International, Inc.; Tim Cashman of Black & Veatch; Dennis Mize of Southern Company/Georgia Power; and Mike Shelly, Jermaine Odom, Paul D'Arrigo, and Reed Robinson of Georgia Transmission Company for their very informative presentations. In addition, we would like to thank all of the attendees for their excellent discussion and thoughtful input on improvements for future versions of our software.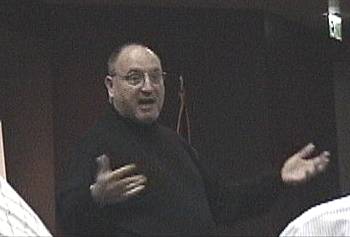 Above: Dennis Mize of Georgia Power discusses how Southern Company has incorporated PLS-CADD into their existing database for integration of PLS-CADD with their existing GIS system, work order generation and tracking, project estimating, asset management, and FERC accounting applications.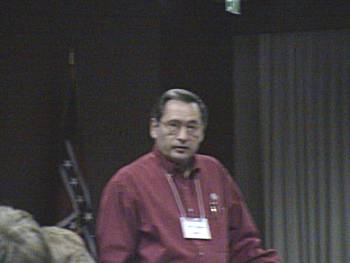 Above: Ron Randle of EDM discusses how PLS-CADD can be used to monitor real-time ratings of transmission lines.
The official agenda and brochure can be found here and here, but in the spirit of the current political situation here in the U.S., one of our attendees took it upon himself to create an 'unofficial' agenda and evaluation ballot. For a good chuckle, click on each of the pictures to see an enlarged readable version. We can say that after reading all the hanging, pregnant, and dimpled chads, it appears that the Users Group was an overwhelming success and beneficial to all who attended.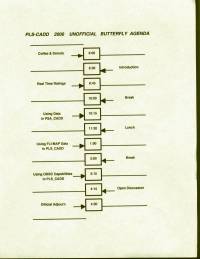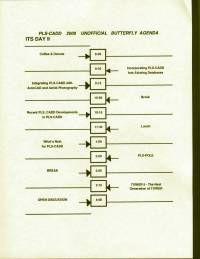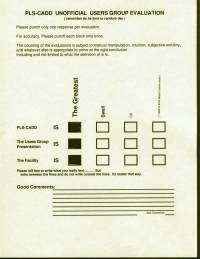 The PLS-CADD 'A' Team!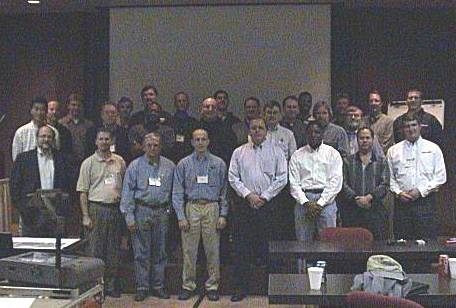 Over 34 engineers and line designers from 20 different companies attended the users group. Those companies represented were:
Alliant Energy
Black & Veatch
Carolina Power & Light Company
City of Tallahassee
Commonwealth Associates Inc.
EDM International, Inc.
Fiber Planners Inc.
Georgia Power Company
Georgia Transmission Company
Harp Engineering Inc.
Innovative Engineering Solutions
MEAG Power
Mesa Associates, Inc.
Nashville Electric Service
Power Delivery Associates, Inc.
Power Line Systems, Inc.
Reliant Energy HL&P (TRT-10)
Santee Cooper
South Mississippi EPA
Tennessee Valley Authority
---
Home



610 N. Whitney Way, Suite 160, Madison, WI 53705, U.S.A.
Phone: (608) 238-2171, Fax: (608) 238-9241
Email: info@powline.com

© 2000 Power Line Systems, Inc. All Rights Reserved.