---
How to make PLS-CADD your final Plan & Profile drawing producer using Portable Document Format (PDF) from Adobe
If you haven't already made PLS-CADD your final Plan & Profile drawing producer now would be a good time to consider doing so. You can see a step-by-step procedure, complete with downloadable example files for a typical P&P drawing border and other drafting standards on our website here. With the latest improvements in PLS-CADD, working with aerial photography and other basemaps from GIS is easier than ever. This simplicity contrasts with the difficulty of using aerial photography in other CAD software especially when the pictures need to be rotated and cut to fit in your sheets. Combine this ease of use with the ability to annotate your drawings and the exploding popularity of PLS-CADD as the final producer of P&P drawings is explained. If you are still creating "dumb" drawings by using other CAD packages or exporting your work out of PLS-CADD, we suggest you give this a try. Like many others, you will discover the joy of having an engineering-based drawing (CADD).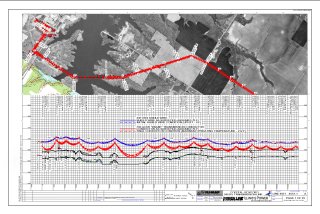 PLS-CADD Aerial P&P PDF (4 MB)
The primary obstacle preventing the use of PLS-CADD as the final P&P drawing producer is the need to share these drawings with those who do not have PLS-CADD. You can easily overcome this obstacle by using the Adobe PDF writer or any number of other shareware/freeware programs available on the Internet (PDF Converter is one of the best we've found) to add a "PDF printer driver" to your list of printers. You can then simply "File/Print" your P&P drawings into PDF format where they will be ready for your managers, field crews, or any external agencies to quickly review. This is much easier than porting to another CAD package and the viewer is free (it is even supplied with Version 5 of our software for viewing our on-line manuals)!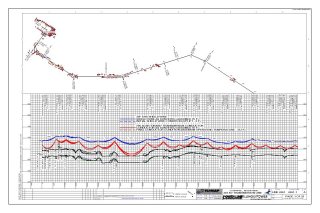 PLS-CADD Vector P&P PDF (218 KB)
We recommend you use the following compression settings to generate your PDF documents: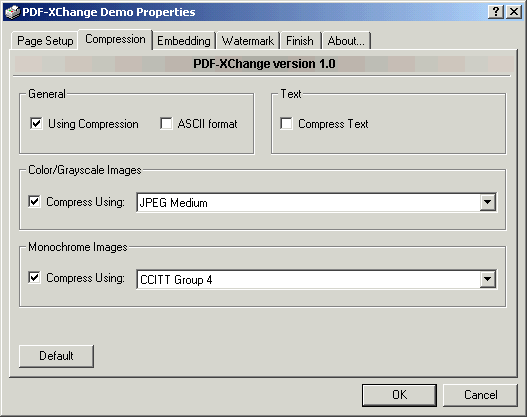 PDFs with aerial photography attached can have large file sizes. However, the resulting PDF is still quite a bit smaller than a comparable DWG or DGN with aerial photography attached, assuming that such a file could even be transmitted to others without the proper referencing set up. A simple P&P with a vector basemap attached is very small and can quickly and easily be emailed to outside officials.
In conclusion, for a cost of free to $249 for the full Acrobat software, you can immediately begin making PDF documents of your Plan & Profiles sheets or any other PLS-CADD view. The capability to share your drawings with anyone without necessarily giving them the ability to modify your drawing files as they would in a CAD based deliverable makes using PDF generated drawings from PLS-CADD a no-brainer.
---
© 2018 Power Line Systems All Rights Reserved. Privacy Policy