610 N. Whitney Way, Suite 160
Madison, WI 53705, U.S.A.
Phone: (608) 238-2171, Fax: (608) 238-9241
Email: info@powline.com
---
Working With Finite Element Multi-Span Sag-Tension in PLS-CADD
There are situations where the use of ruling span based sag-tension may be unacceptable:

In such situations PLS-CADD can be supplemented with our SAPS program. You simply tell PLS-CADD you want finite element sag-tension and it automatically bypasses its internal ruling span sag-tension and uses SAPS instead. You tell PLS-CADD this by selecting an FE (finite element) cable condition or by telling it to lock the wire lengths in each span (Section/Modify "clip insulators- lock unstressed length"). You continue to work with the normal PLS-CADD display and reporting functions but your results are based on a SAPS analysis. The SAPS analysis is so well integrated that you can't tell you ever left PLS-CADD.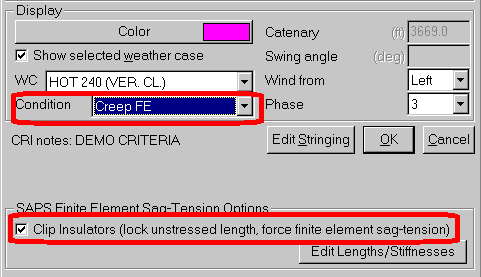 Telling PLS-CADD to use SAPS for sag-tension calculations
---
© 2006 Power Line Systems, Inc. All Rights Reserved.