Attend the Austin Power Line Systems Users Group Meeting in November
Learn the latest tips and tricks in PLS-CADD


Power Line Systems announces PLS-CADD Users Group Meeting Details -- Register Today!
---
As announced earlier in our September Newsletter, Power Line Systems is facilitating another official Users Group Meeting (UGM) in Austin, Texas on November 11th and 12th. The UGM will be held at the Hyatt Regency Austin. We only have room for 65 participants, so please register quickly to guaranty your spot.
There is no charge for attending the UGM and it is open to all currently licensed users of our software as well as potential users evaluating our software. Lunch will be provided each day. You are responsible for all of your other expenses.
The schedule of the UGM will be from 8:30 to 4:30 each day, and the forum will be extremely casual. Listed on the right of this page are some major topics that will be covered by various users, with time allotted after each topic for a question/answer session as well as open discussion of how we are all using these applications. Eric Peyrot and Otto Lynch from Power Line Systems will be there to answer any questions that you may have, as well as spend some time covering upcoming improvements. If you have a topic you would like to see covered or want to make a presentation on, please e-mail Otto Lynch with your requests. Bookmark this page and keep checking it, as any additions or changes will be maintained here.
We hope to see you in November.
So Where Is Hyatt Regency Austin and Where is This Meeting?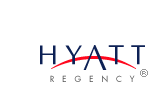 Hyatt Regency Austin is located in downtown Austin, Texas on the South side of the Town Lake. It is about 8.1 miles from Austin-Bergstrom International Airport (AUS).
Hyatt Regency Austin
208 Barton Springs
Austin, Texas
78704 USA
Tel: +1 512 477 1234
Fax: +1 512 480 2069

Directions to the Hyatt Regency from the airport are as follows:

Depart Austin-Bergstrom International Airport on Local road(s) (West) 0.4 mi
Turn RIGHT (North) onto US-183 3.7 mi
Continue (North) on Ramp 0.5 mi
Continue (West) on E 1st St [Cesar Chavez St E] 2.5 mi
Continue (West) on SR-343 Loop [E 1st St] 0.3 mi
Turn RIGHT (North) onto Trinity St 120 yds
Turn LEFT (West) onto 2nd St E 0.2 mi
Turn LEFT (South) onto Congress Ave (S) 0.4 mi
Bear RIGHT (West) onto Barton Springs Rd 98 yds
Arrive Hyatt Regency Austin

SUMMARY
Driving distance: 8.1 miles
Estimated Driving time: 14 minutes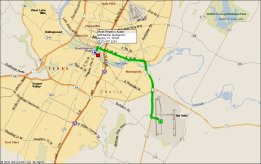 Click On Map to Get Enlarged Version
Hotel Information:
Below are some hotels for your consideration. We have not made any agreements nor do we endorse any of them; the information is just provided for your information. Other hotels are located out on I-35 and at the airport as well.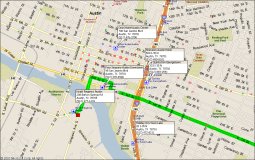 Click On Map to Get Enlarged Version
Four Seasons-Austin Downtown
98 San Jacinto Blvd
Austin, TX 78701
(512) 478-4500

Sheraton Austin Hotel
500 I-35 N
Austin, TX 78701
(512) 480-8181

Omni Hotel-Austin Center
700 San Jacinto Blvd
Austin, TX 78701
(512) 476-3700

La Quinta Inn-Georgetown
333 I-35 N
Austin, TX 78702
(512) 869-2541

Holiday Inn-Town Lake
20 I-35 N
Austin, TX 78701
(512) 472-8211


What's New in PLS-CADD, PLS-POLE, and TOWER
Be the first to know the latest developments!
Power Line Systems staff will discuss the latest improvements in PLS-CADD, PLS-POLE and TOWER, and how these features can assist you in your day-to-day engineering activities. Learn how the ruling span and wind and weight span design concepts can lead to significant design errors and how finite element analysis can help you avoid them.
Producing Final Plan & Profile Drawings from PLS-CADD
Save time by avoiding exporting your drawings to another CAD package!
A utility will discuss how they produce their final Plan & Profile (P&P) drawings directly from PLS-CADD. The reasoning behind this decision will be discussed. Also learn what the advantages of automating your drawing production using PLS-CADD are, what potential pitfalls might be and how to handle them.
Using a Field Data Collection Tool to Rapidly Populate PLS-POLE and PLS-CADD
Joint Use Analysis with PLS-CADD and PLS-POLE
A consultant will demonstrate how they are using PLS-CADD and PLS-POLE in maintaining the structural integrity of a utility's aerial distribution and transmission systems while still meeting the fast-paced demands of the attaching telecommunication companies. Topics will include: Electronic data collection and tracking, "screening" analysis of lightly loaded structures, and automatic generation of PLS-POLE and PLS-CADD files using PLS's Database Command Lines for structures failing the "screening" analysis. Learn why joint use analysis is MUCH more than just ground line moment or wind and weight span checks and how you can take advantage of this technology yourselves."
USGS Data in
PLS-CADD
Use readily available digital data for preliminary line designs.
A discussion will be led on how to find, download and import mostly free USGS data from the Internet into PLS-CADD. This can be used for a variety of purposes from routing selection to preliminary line construction estimating to alternative base maps for final production drawings. The techniques used to import this data can be applied to a wide variety of other formats such as digital aerial photography and existing utility GIS maps and information.
Using Lidar Data in PLS-CADD
Learn how to import and interpret data collected from aerial laser survey methods such as FLI-MAP™, AeroTec and others.
Using these methods utilities can gather existing as-built information quickly and with PLS-CADD rapidly determine and mitigate clearance violations under anticipated maximum operating temperatures.
Tips and Tricks in TOWER
Learn how to use relatively easy techniques to speed up your TOWER modeling process.
A utility will present how they have taken advantage of tower symmetry and sections definitions with copy and transform to drastically reduce the amount of time it takes to model lattice towers in TOWER.
Upgrading/Uprating Existing Lattice Towers
See what you need to know when upgrading/uprating your lattice structures.
A consultant will cover the codes and important properties that you should be aware of when using TOWER to upgrade/uprate your existing lattice towers. Learn why your A394 bolt strength may be 20% over or under specified. And what happens when your existing in-place tower doesn't meet today's L/r requirements? See why it is absolutely essential that those using TOWER are aware of not only the latest codes, but the codes and design practices that were in effect when the tower was first designed. This is a must see presentation for any utility that has lattice towers in their system.