---
Thanks to all attendees, presenters and sponsors!
The 2011 User Group Meeting was the largest yet. We would like to thank our sponsors and presenters for making this event possible: Thomas & Betts for the Tuesday Night Reception, and Utility Risk Management Corporation for the Wednesday night Lakeside Reception. Finally, we want to thank the more than 200 attendees for taking the time to attend. For the benefit of those who could not be there as well as those in attendance that wish to share information with their associates that were not able to attend, handouts from selected presentations are available below:
All of the features shown at the meeting (as well as some of the features requested at the meeting) are now available in version 11 of PLS-CADD. You may upgrade to 11 using the Help/Download Upgrade command in PLS-CADD.
We hope to see all of you next time!
Staff of Power Line Systems, Inc.

---
Mark your calendars now and plan to attend the 2011 PLS-CADD Advanced Training and User Group Meeting in Madison!
Who All users of PLS software
What A combined Advanced Training and User Group Meeting
When July 19, 20 and 21, 2011 8:30am-4:30pm
Where The Monona Terrace Convention Center in Madison, Wisconsin
Why To learn what is new and make sure you maximize your investment in PLS software
How Register and reserve a room online Registration is free and is required
The agenda is now available. Some of the topics that will be covered at the meeting include: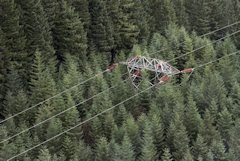 The Perennial "What's New in PLS-CADD" and how does it make my job easier
Working with LiDAR in PLS-CADD: Review of the new NERC FAC-008 inspired features
Review of the new Project Estimator for full project cost estimating
See the new Materials Management capabilities and how they may be replacing your existing methods of managing materials, labor, and equipment!
PLS-CADD for Distribution Design? The latest requirements in some states is to now consider sag and tension and perform proper pole analysis at the distribution level; PLS-CADD is the already tried and proven solution!
Clearances: The many additional ways of checking clearances will be explained
Checking Connections and Anchors in PLS-POLE and TOWER, its in the CAN!
Redundant member design in TOWER
Bookmark this webpage and check back frequently for more information as it becomes available. If you have a PLS-CADD project or technique that you feel other PLS-CADD users would benefit from then please consider making a presentation. If you have particular topics that you would like to see covered or are interested in making a presentation then please contact Otto Lynch.
Where to stay Hilton Madison Monona Terrace We have negotiated a discounted group rate with the conference hotel. In order to take advantage of this rate, you must reserve a room by June 25th.
Group name: Power Line Systems, Inc.
Hotel Phone: 866-403-8838.
There is no charge for attending the User Group; however, you must register if you plan on attending. This web page provides more information about traveling to Madison, Wisconsin.
We hope to see you in beautiful Madison this July!
---
© 2018 Power Line Systems All Rights Reserved. Privacy Policy